The Start of the Ideas
Imagine you have to make a gift for your family. And it has to be the perfect gift, it has to reach them so deeply that it gets them excited. You may break your head thinking about the gift, over several weeks. What can excite them all? If the present was only for the nephews, a Scalextric would be nice, if it was for your brother, one of the latest videogames would be perfect. But a present for them all? Suddenly, the word book resonates in your head. And a common passion for them all: the grandmother.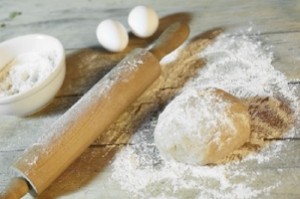 It is the perfect gift, a book with all the Grandma's recipes. Those recipes all the generations have enjoyed in the family meetings. A gift that every member of your family will appreciate, even the younger generation that probably are not very interested in cooking at the moment. You can be sure that in a few years they will look at this book you give them and smile thinking of those meetings of the whole family in which the grandmother cooked proudly to have everyone sitting at her table.
It is a gift they will always keep, it will be packed carefully each time they move home. It is a gift that will go from hand to hand, generation after generation, and that will always carry the memory of those who devised it: You.
The Next Steps
What are you waiting for?  You could go to have tea with your grandma with a pen and a notebook and start working on it. After a few meetings and hours talking with your grandma, you will be able to start writing your book. Then just choose a nice cover, binding style and it will be ready to be published on Bubok and, who knows, it could be a best seller!