Since you've wandered here, probably there´s a terrific story in your head that is begging to be told. You have time and motivation, you've opened your computer to start, you are ready to type the first sentence of your book, and then… And then you realize you have no idea which program to use. Sounds familiar? No worries, it's easier than you think.
There's a lot of book-writing software out there. However, you don't need to spend your money on a fancy program because it won't make your story better. All you need is proper a formatting so your final work looks professional and no editor could say a word about it. The first great new is that you don't have to look anywhere far. Most likely you already have that superb tool on your computer. So… Let's open old but gold Microsoft Word!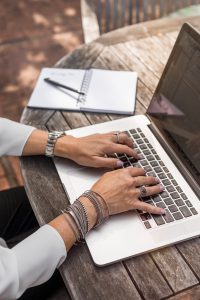 What Are the Main Benefits
No matter what is your age, professional background or your computer, everyone knows Microsoft Word. We would hardly find a person who wouldn't know at least the basics of it. Now, there are some things worth paying attention to so you can use this software at its best. Trust these guidelines and you no longer have to waste your precious time by non-starting to write.
Here are the main key points of Microsoft Word:
TEMPLATE. It's recommended to set up Times New Roman,12-point, double space, indent first line and all headings at the same size as the normal text.
NAVIGATION. Some prefer to use numerous files to write separate chapters or smaller pieces of the story. However, if you want to keep it all together in one place, you can easily to that.  Go to View and check Navigation pane. It allows you to navigate around your book quickly and efficiently while also adding a useful search feature. You can also use it to keep track of the number of words in a given section. Right click on any heading in the pane and choose Select Heading and Content.
COMMENTS. In case you're taking a short break or want to leave your writing for a day or two, it's useful to make some notes. This way you can always keep track on what you wanted to add to your story, edit, which facts have to be double-checked, etc. For example, you can leave yourself a comment "Dialogue starts here" or anything else you need.
PAGE BREAK. This allows you to start the next part of the story, usually a new chapter, on a new page. It's important in order to make your book and all its parts to be easy readable and professional. Just click where you would want to start the new page, then go to Insert>Breaks>Page Break and here you are on a blank page ready to be filled with another part of the story.
PAGE NUMBERING. No doubts your book needs to have specified number of pages. But you don't have to do that manually as it simply would a nightmare. To insert page numbers, go to Insert>Page Numbers. They will be updated automatically in case you insert or delete pages from the document.
TABLE OF CONTENT. When you have all the chapters and page numbers, it's important to inform the reader upfront what he will find in the book and where. Just as with page numbering, you don't have to do this manually as it would cause even bigger headache. To insert an automatic table of content, follow these steps:
Format the "Chapter Titles" and whatever else you would want in the Table of Content with predefined Styles. You can use "Heading 1", "Heading 2", "Heading 3" etc., for the titles at different levels.
After the chapters are written, click where you want to insert the Table of Content.
If you're using MS Word 2007, go to References>Table of Contents and select the desired option there. Depending on which operating system you're using, it can also be Insert>Reference>Index and Table.
If you change things is the document, before saving it to the PDF file, update the Table of Content. To do so, right click on the table of content and click on Update Field.

Most Common Mistakes to Avoid
Even using something as easy as the Microsoft Word there are particular mistakes people are tend to do. They might seem just a little details, but they're highly important if you want to make the best out of your written work. If you leave too many mistakes, including formatting and grammar, an editor can simply refuse your manuscript. So, make sure you avoid making a bad first impression and take care of your future book!
This is a short list of DON'TS when writing a book in MS Word:
Pressing Enter multiple times to start the new page. This will lead to constant formatting headaches when you modify the content.
Putting extra spaces or tabs used to create an indent for the first line of each paragraph. When formatting, your book designer will use style settings to set the first line paragraph indent. If you used extra spaces or tabs to create a first line indent in your document, they will need to delete them from your document.
Putting two or more paragraph breaks between paragraphs. Your book designer will need to remove all of these extra paragraph breaks in order to format your book properly.
Using two spaces between sentences instead of one. Again, this would just cause an additional work for a designer.
Creating complex tables, charts, graphs at a page size larger than your book size.  If you are creating this type of things in your file, you should consider setting the page size to the size you plan on printing your book. You can do that under the Page Setup window.
There can be more useful features of MS Word depending on what kind of written project you're working on. Just remember that if you put your efforts in formatting your book (and grammar-check of course) you increase your chances of publishing your book and selling your book. Even if you decide to go a self-publishing way and do everything by yourself, you don't want readers to see a poor work.
Don't let choosing a software stop you from writing.