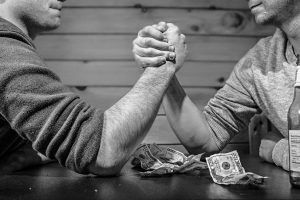 It is a very common misconception for writers to believe that in order to create conflict, some kind of notable event has to take place or some kind of internal suffering needs to be depicted. However, the truth is that if these events were the only elements of conflict present in your book, the story would be pretty flat.
Good conflict ultimately comes down to value. While including significant events and emotions, values and morals are what will drive your conflict from beginning to end. What do you value in life?  The things you value can be portrayed through all of your characters – the goodies and baddies.
Examples of common values include:
Money / Wealth
Friends
Family
Organisation
Educational success
Justice
Compassion
The environment
Honesty
Power
Humility
When the good create conflict
It is not only villains who create conflict in a story. Very commonly two positives are used to conflict each other such as marriage and love.  Both of these appear to be positive things, but in many romances, people often marry the wrong person, while their heart lies with another.  Wealth and love also collide in many stories.  Do you marry for wealth, or love?  Will money bring happiness or only true love? These kind of conflicts are very common and can be developed throughout the book.
Characters will often fail while trying to balance a range of positive values, however it is how you bring the story together at the end that will end the conflict. Will your hero be wealthy?  Fall in love?  Marry?  Get the job?  Will the villain's lies be caught out? Is Justice served? Will friends and family come to the rescue?
Just by looking at the list above, there are many possible scenarios for conflict and the resolution of this conflict.
To create conflict within your own story, ask your­self the following questions:
 What does your main character value?
Do any of their values cause potential conflict?
How can these conflicts be revealed and resolved?
Are any single values conflicting against themselves?
Villains and conflict
When you use values to create conflict, it is not always necessary to have a central villain. You may just need someone who doesn't share the same values and forces your character to question him/herself. This being said, villains are often fun to portray and everyone loves a good villain getting what they deserve.
To create the perfect villain, work out the values you want your main character to have ad then twist these values until they are almost recognisable and let both characters battle it out.