Almost 50 years ago Comic Con was held for the very first time starting as a one-day "minicon" at the U.S. Grant Hotel in downtown San Diego. And the success of that day unarguably led countless people to where they are today – regularly going a little loco for their favorite characters. It has become such a wonderful phenomenon whereby art and culture can keep on finding their way to so many hearts and minds every year. Recently this fantastic experience also became available to the people of Lisbon.
Comic Con Portugal 2019 was a massive celebration full of people, events, and above all, fun. The star of this gathering, Millie Bobby Brown, created huge queues and created a real buzz. Participants really enjoyed events like the cosplay parades and took countless photos, ultimately finding their bags stuffed to the brim with irresistible items. And, of course, there were amazing panels, including those organised by Bubok Portugal.
Together with our PtAnime partners, our team of Bubok Portugal arranged a panel with a Manga artist, Kachisou, the winner of this year's contest.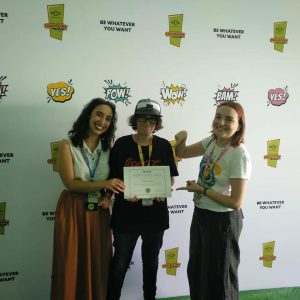 This magnificent storyteller was awarded for their original manga Weak, which we will be publishing very soon. We discussed various topics such as:
– Manga and its popularity in Portugal:
It is an increasingly popular genre amongst the Portuguese youth and the market is clearly expanding.
–  International awards:
Kachisou is not yet well known in Portugal, although he has already received awards in recognition of his art in Japan.
– His trajectory:
From the age of 18, he has done nothing but draw and write stories.
– His future publication with us:
We can't be happier about having the opportunity to work with this amazing artist. This book is going to follow various characters as they learn about self-development. There will also be a surprising twist that you'll have to buy this manga to find out!
What's more, this wonderful work will soon be available to an even wider audience. Kachisou's manga Weak is currently being translated, which means that the English version is on the way! Weak will reach bookstores in both print and online formats in 2020, so even more manga lovers will be able to appreciate and enjoy his brilliant work.
On the third day of Comic Con our team hosted another panel and had a chat with the lovely Sofia Neto about her light novel "Supernova – The Kingu Blast".
Sofia Neto is already a veteran at presenting her book at various events, but this time, at the massive international event of Comic Con, she was a little nervous. We spent quite some time chatting about: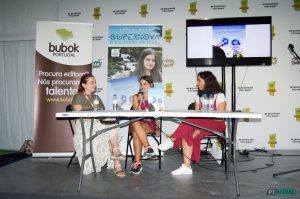 – Her career as a young writer:
Sofia won our romance contest last year with this highly innovative light novel. The world building of this universe dazzled all the AO anime assistants in Braga, The Geekiest Day in Coimbra and now at the massive event of Comic Con in Lisbon.
– The plot of her book:
Kingu, an evil queen, has subjugated and oppressed all the inhabitants of a country called Netham. A group of rebels, with a base camp in the middle of the desert, fight to free the people. That's just the base premise of a sprawling story which branches out to even wilder storylines and across different timelines.
– Her future plans after Comic Con:
Currently, this 20-year-old is about to publish a book in English, a sequel to Supernova. Even more impressive, she's doing all this as a soon-to-graduate student in biomedical engineering at the University of Minho. We couldn't be more excited about working alongside such a talented young woman!
These two panels were our first venture into Comic Con Portugal, and they were a great success! We're really looking forward to coming back next year with even more news, more books, and having more adventures with our wonderful friends from PtAnime.
Meanwhile, we're eager to hear what crosses YOUR mind when you think about Comic Con – have you had any interesting experiences there? Maybe you already know our young artists or maybe even have had the opportunity to check out their works? Don't hesitate to share your opinion, we'd love to know what our beloved readers have on their minds!