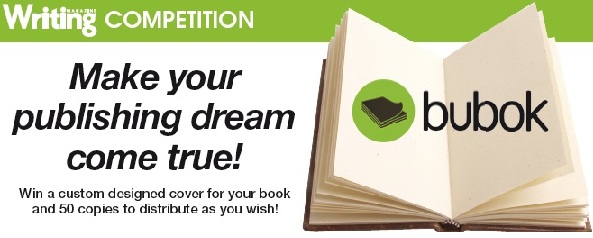 We are happy to present our first book contest, launched together with Writing Magazine!
Your Prize Includes:
Full-colour cover design
Bubok´s book cover designer will contact you to discuss your book and create a brief to ensure the cover complements your new book. You can also submit any high resolution images or any ideas that you would like included. The cover design includes a front and back cover as well as spine design.
50 copies
Once you are satisfied with our cover design and have uploaded and published your book on the Bubok website, we will send 50 copies of your book to the address you provide. You are free to distribute your books where ever you like.
Proof Copy
When the book content is ready to print and the cover design has been approved, we will provide a free proof copy to ensure you are happy with everything before the final 50 copies are printed.
Other Benefits That Come With The Prize
Author Page
By signing up at Bubok and publishing your book on our website, you can create an author page that displays your published work alongside a mini biography and any other information you would like to share. Create a profile and allow the Bubok community to learn about its latest author.
Online Bookstore
Once you set a price for your book it will be available to the public as a printed copy and/or eBook from our online store. Readers can view your book and purchase it directly from the website. We take care of the printing (Printing On Demand) and ship your book directly to your customer. You sit back and collect the profit.
Re-orders
You can purchase additional copies or make amendments to your book at any time by visiting Bubok's website.
CONDITIONS…
In order to take advantage of the prize, the author must create an account on Bubok and upload the book content.
Manuscript editing and layout are not included in the winning prize. The author is responsible for the book interior.
The winning book must fit Bubok´s book dimension https://www.bubok.com/help/instant and consist of no more than 200 pages.
HOW TO ENTER
To enter, simply send us up to 100 words explaining why your book deserves to reach a wider audience. Bubok team will read all the proposals and select a winner.
Enter online at www.writers-online.co.uk
or by post to: Bubok (WJC0036), Warners Group Publications, Writing Magazine, Fifth Floor, 31-32 Park Row, Leeds LS1 5JD.
The closing date is 5 July 2012.