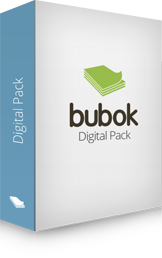 Pack information
Services
Bubok ISBN, ePub format, international digital distribution, cover design, BUBOK card: benefit from 10% discount on all service purchases for one year
Bubok team
Ana Cuervo, Amaya Lalanda
Pack description
What will happen at the beginning?


You will be contacted by our team no later than 48 hours after contracting the Digital Pack to start the editing process.

What do I need to start?


Our editors will request you a series of documents that will be the starting point of the editing work.
- We will need the Word file with the final text of your book. If you only have a paper copy, first you need to digitize it.
- We will send you a questionnaire about your work to develop the cover.
- In all times, our team will be at your disposal for any clarification or query.
Once you send us these materials we will set a work schedule with tasks, deadlines and goals.

How will the process be?


You are about to see your ebook published in hundreds of online bookstores. The steps, starting from the Word document of your work, are:
-Design of the personalized cover with the criteria established in the previously mentioned questionnaire.
- Creation of the epub file.
- Credits and pricing.
- Publication in Bubok and inclusion in our digital library system.
At each stage of the process we will ask you about your ideas and tastes and we will offer you options that best fit your book's content to achieve an appropriate outcome.

What will I get?


Besides the satisfaction of seeing your book published in hundreds of online bookstores, we will provide you the final arts of your cover and the epub file of your book. Finally, you can enjoy a 10% discount card on all service purchases for a year.
Bubok's Digital Pack has given me the chance to publish at a very reasonable price. The final product is versatile and adaptable to multiple platforms and readers. This pack is a sound light option. It does not guarantee high sales but if you don't even try you won't sell any books for sure.
José Quintas Alonso, Bubok Spain
More information
Which is the recommended price for my book? When will it be set?


Once the editing process is finished, we will choose the final sale price. To achieve the widest distribution it should end in 0.49 and 0.99 (VAT included), but the final decision is yours.

When will my book be ready?


We will work on your project for two or three weeks.

In which online bookstores libraries will my book be available?


Your ebook will be sold in more than 700 digital platforms, including Amazon, iTunes and Google Play.

When my book will released in those bookstores?


7 -15 days after publication in Bubok, your book will be released in all the other bookstores. That short delay is due to the ISBN Agency's processes.